Willkommen bei der ARCult Media GmbH!
Welcome on the website of ARCult Media!
Die ARCult Media Verlagsbuchhandlung veröffentlicht und liefert kulturwissenschaftliche Studien, andere Fachbücher für den Kultur- und Medienbereich sowie Dokumentationen und Datenbanken im Internet, vgl. www.kulturpreise.de.
ARCult Media Publishing & Bookshop publishes and distributes scientific studies; reference books and documentary works addressing issues in the arts and media; as well as Internet databases (e.g. www.kulturpreise.de).
NEU / NEW: "Culture and Human Rights - The Wroclaw Commentaries"
360 Seiten/pages, Index, Hardcover, 99,95 EUR - Bestellung / Order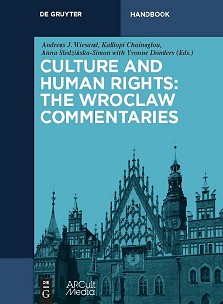 Die Stadt Wroclaw (Breslau) hatte, im Rahmen des Programms der Europäischen Kulturhauptstadt Wroclaw 2016, Prof. Dr. Andreas Joh. Wiesand und sein Team bei ARCult Media um die Vorbereitung eines Handwörterbuchs mit dem o.g. Titel gebeten, zu dem Fachleute aus zahlreichen Ländern beitragen sollten. Dieses Handbuch, das erste seiner Art weltweit, ist jetzt in Zusammenarbeit mit dem Verlag de Gruyter, Berlin publiziert worden. In 130 Artikeln umfasst es relevante Rechtsfragen und wichtige politische Konsequenzen zum Thema Menschenrechte und Kultur (im weiteren Sinne), darunter: Kunst- und Meinungsfreiheit; das Recht auf Teilhabe an Kultur, an alten und neuen Medien sowie am Kulturerbe; Fragen religiöser und sprachlicher Rechte; der Schutz kultureller Minderheiten; Sicherung kultureller Vielfalt und weitere Aspekte.

In the context of the programme for Wroclaw - European Capital of Culture 2016, the City of Wroclaw asked Prof Dr. Andreas Joh. Wiesand and his team from ARCult Media to prepare, together with experts from many different countries, a basic handbook with the above title. This concise dictionary, the first of its kind, has now been published in cooperation with the international publishing house de Gruyter, Berlin/Boston. In 130 articles, it covers relevant legal questions as well as political consequences related to human rights and culture in the wider sense, including: freedom of, and access to, the arts, (old/new) media and heritage; questions of religious and language rights; the protection of minorities; safeguarding cultural diversity; and other issues.
Andere aktuelle Titel / Other current titles:
NEU 2016: S. Keuchel/Th, Renz (Hg.): Report Kirche und Musik
Empirische Analyse zur Situation von Kirchenmusikern/innen
200 Seiten, Paperback, 20 EUR - Bestellung

Online-Shop

Information/Contact

Alle Titel des ZfKf und des ERICarts-Instituts/All ZfKf and ERICarts titles
Die ARCult Media Projektentwicklung realisiert künstlerische und Medienprojekte, entwickelt "Reisen zur Kunst", berät zur deutschen und europäischen Kulturförderung und unterstützt Aktivitäten der internationalen kulturellen Zusammenarbeit.
ARCult Media Projects conducts arts and media projects, develops 'art voyages', advises on arts funding in Germany and Europe and promotes international cultural cooperation.
Projekte u.a. / Recent projects:
"Reisen zur Kunst" u.a. nach Kuba, Polen, Island, Norwegen und in die TĂĽrkei
Aktivitäten beim Festival ACHT BRÜCKEN – Musik für Köln
Deutsch-polnische Projekte u.a.